Collaborators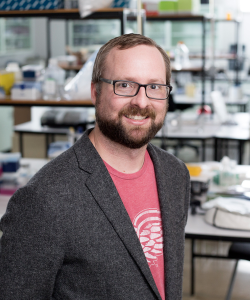 Director, Collaborative Conservation Genetics Lab
Growing up in the Loess Hills of northwest Iowa, Mark Davis was fascinated by the natural world, and the biodiversity inhabiting it. He spent his days outdoors, flipping rocks, wading streams, and wandering remnant prairies. The fish and wildlife of these places interested and inspired him then, and have shaped who he is as a scientist now: a Conservation Biologist and Director of the Collaborative Conservation Genetics Laboratory. Dr. Davis' life's work is committed to helping to conserve biodiversity for generations to come. While his research is taxonomically broad, the overarching goal is to elucidate patterns in biodiversity and processes that might be influencing biodiversity loss. The lab employs cutting-edge molecular tools from biodiversity monitoring using environmental DNA to transcriptomics, phylogenomics, and conservation genomics to inform management interventions for extending species' evolutionary trajectories.
Dr. Davis' research is inherently interdisciplinary, highly collaborative, and intensely applied. Moreover, he has strived to build a diverse, equitable, inclusive and just research program that supports each individual both professionally and personally. In doing so, he and his lab are tackling consequential challenges in biodiversity conservation to ensure these taxa that he grew up amazed by will be here for future generations.
Dr. Larson is an associate professor in the University of Illinois Department of Natural Resources and Environmental Sciences working broadly in freshwater ecology and conservation. He collaborates with the CCGL to detect both invasive non-native and imperiled native species using environmental DNA (eDNA), and to apply molecular methods to understand causes and consequences of biological invasions.
Jinelle Sperry
Jinelle Sperry is an adjunct professor at the University of Illinois in the Natural Resources and Environmental Science department and a wildlife biologist for the US Army Engineer Research and Development Center (ERDC-CERL) in Champaign, IL. Her research focuses on community-level ecological interactions and animal behavior for endangered and at-risk species. Her research explores multiple facets of community ecology including competition, mutualistic networks, and the ecological roles of invasive species. She also investigates animal behavior, communication, and movement across a wide range of taxonomic clades. Recent work has focused on the use of environmental DNA (eDNA) to explore species distributions, species interactions, and impacts of ecological correlates. 
Postdoctoral Fellows
Nathan Alexander
Nathan researches landscape genetics, gene flow, and species distribution modeling. His research primarily uses microsatellites and neutral markers to identify landscape features that pose barriers to connectivity although he has also used mitogenomic data to identify intraspecific phylogenetic relationships. Nathan is also invested in increasing inclusion and access to wildlife ecology, especially for LGBTQ+ researchers and students.
Students
Molly Carlson
Molly Carlson is a University of Illinois INHS M.S. Research Assistant in the Department of Natural Resources and Environmental Sciences. Her research focus is on Astacology, the study of freshwater crayfish, specifically burrowing crayfish species. She considers herself to be a conservation ecologist, as her research combines the biogeographical, genetic and morphological variations in burrowing crayfish to better inform their larger conservation needs and management implications. Her work in the Davis Lab has increased our knowledge on the diversity of Illinois and the elusive semi-terrestrial crayfish species that call it home.
Roberto Cucalón
Roberto Cucalón is a Ph.D. student from PEEC at Dr. Milton Tan's Lab. He is a graduate student research collaborator at CCGL, using genomics and bioinformatics to understand evolutionary patterns among freshwater fish populations. As a result of his work at CCGL, he has been able to present some preliminary research outcomes at the GEEB Symposium 2022 and showcase a poster at the Evolution Meeting 2022. Additionally, he has published a paper in the Journal of Neotropical Ichthyology about the phylogenetic placement and divergence of an endemic fish from Ecuador. Currently, he is collaborating with members of the Davis Lab at the CCGL to study the population genomics of bats and other species of freshwater fish.
Sam Garcia
Sam Garcia is in the final stages of completing a master's degree in natural resources and environmental sciences with a focus on aquatic ecology. Specifically, she studies methods to improve the detection of aquatic invasive species using environmental DNA (eDNA). While her primary focus has been the application of molecular methodologies to detect species in aquatic environments, she holds a broader interest in science and its potential to shape policies. As she approaches the last semester of her program, she's excited to finish her thesis and continue to expand her knowledge in the field of eDNA before relocating to Washington, D.C., and shifting her career toward environmental policy.
Jordan Hartman
Jordan Hartman's earliest career dream was to be a marine biologist, but growing up in the Midwest, she has embraced the beauty in North American freshwater ecosystems. Her research has broadly focused on the ecology of freshwater species from tadpoles to endangered freshwater mussels to native and invasive banded killifish. During her time as a technician, project manager, and student, she has utilized a wide variety of methods, instrumentation, and data to inform conservation management decisions. Her experiences range from conducting field sampling for fish using radio telemetry in Montana, kayaking and snorkeling for freshwater mussels in Missouri, seining the beaches of Lake Michigan for banded killifish, performing genetic and genomic population studies using bioinformatic pipelines, and much more. During her PhD, she has become increasingly interested in how the environmental preferences of a population or species can influence its genetics. Using next-generation sequencing techniques, she can continue to ask questions about how landscape-level, environmental factors influence the population genomics of virtually any species.
Amanda Martinez
Student in EEB interested in evolutionary genomics and conservation genetics.
Olivia Reves
Olivia Reves is an incoming graduate student in the Natural Resources and Environmental Sciences Department at the U of I. She was born and raised in Virginia/Maryland before moving to Texas in 2014. She received her Bachelor of Science in Environmental Science with a specialization in Natural Resources and Wildlife Management from the University of Texas at San Antonio in 2022. Funded by the McIntire-Stennis award and in collaboration with the Larson and Davis Lab, her thesis project will employ eDNA metabarcoding to find associations between vertebrate community structure and forest cover at various spatial scales. She will also be exploring the impact high flow has on eDNA sample collection. Her academic interests include aquatic ecology, community ecology, environmental science outreach and education, and most recently, conservation genetics! In her free time, she loves to hike, do yoga, and ski.